The villain of the video game got lost in "Sugar Rush"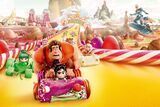 In a video game, the villain Ralph really wanted to get along with the other characters he played with. But he was treated as a nuisance. Ralf alone. One day, dissatisfaction explodes. You declare that you can be a hero and jump out of the game world. However, Ralph's action had a huge impact on the game world ...! Many Japanese game characters such as Street Fighter II Vega, Mario Series Bowser, and Sonic the Hedgehog will also appear.
Production Company: Walt Disney Genre: Overseas / Fantasy
Staff: Director: Rich Moore, Production: Clark Spencer
The villain character Ralph wants to be a hero character loved by everyone. One day, Ralph finally can't stand and jumps out of his game. I lost my way in the candy country racing game "Sugar Rush". Ralph met Vanellope, a girl who couldn't compete in the race because of a bad program. Ralph, the outcast, and Vanelope, the lonely friend, are lonely and gradually joined together by friendship. But Ralph's actions go against the rules of the game, and if left unchecked, will bring disaster to the entire game world. Ralph learns "Sugar Rush" and the dreaded secrets hidden in Vanelope as the game characters are upset. Can Ralf save Vanelope and change the fate of the gaming world? And can he be a "real hero" ...?