Popular in Japan, "Ana and the Snow Queen"
The main characters are Elsa and Anna, Princesses of the Allendale Kingdom. It depicts Elsa, her older sister who turned her kingdom into winter because she couldn't control her "forbidden power," and her sister Anna, who set off to save the frozen world. This work that was screened in 2014 and became a social phenomenon was a hit like a Disney phenomenon that in addition to the masterpiece songs and images, there is also a comical scene with attractive characters, posted on Aniyata There are many opinions in the reviews that were enjoyed by parents and children.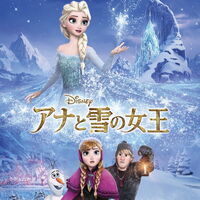 Production Company: Walt Disney
Voice actors: Idina Menzel, Kristen Bell, Josh Gad, Santino Fontana, Jonathan Groff
Elsa and Anna, beautiful sisters of a royal family torn by fate. Elsa, a sister with a "secret power" that freezes the touch, cannot control that power and turns the midsummer kingdom into a freezing winter world. Anna, a younger sister, travels deep into the snowy mountains to save her escaped sister and the kingdom, along with Christoph, a mountain man, and Sven, a reindeer's partner, and Olav, a "snowman who yearns for summer." Can Anna's mind melt the frozen world? The key to all is "true love" ...